The beginning of July was action packed for me and my puppets. My husband and I embarked on another journey to see our favorite band Ween, this time to the Pacific North West. Of course I had to bring the Gene and Dean Ween puppets so they could play and frolic and enjoy the best band ever!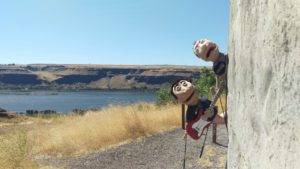 We traveled to Bend, OR and Redmond, WA witnessing some breathtaking landscapes. The venues were both outdoors, making the shows blend in with the beauty of the land. The fans expressed how much they enjoy seeing the puppets at the shows. They represent this awesome band as well as being so entertaining dancing and singing to Ween. They make the shows that much more weird and wonderful. I handed out a bunch of stickers with various pictures of the Ween puppets having adventures along with lyrics from Ween songs. It was pure joy sharing these with fans. I even had an opportunity to hand over some stickers to Deaner outside of his hotel! The next day I met and got a photo with the bassist, Dave Dreiwitz, and handed over more stickers!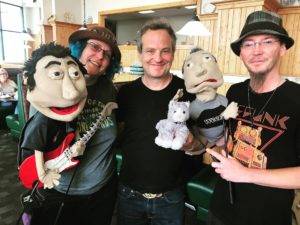 This totally made my whole trip and encourages me to make puppets of him, Claude Coleman Jr. (the drummer), and Glenn McClelland (the keyboardist). Some fans got to perform with my lil' Dean and Gene puppets, adding a whole new level to their fandom. One friend in particular said she got to speak to Gener in a way she may never get to in person and thanked me profusely. Fans took photos and shared Ween themed gifts with us, too.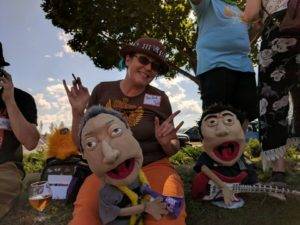 Ween played one of their albums in full live in Bend! The Mollusk came out exactly twenty years ago, which is also me and my husband's twenty year anniversary! We listened to The Mollusk on our first date so this was a total treat! I cannot express how much joy Ween brings to my life and how much I enjoy spreading the love with my lil' Dean and Gene Ween puppets. They are a blast to work with and will forever be a major highlight in my life. 
The day after the Redmond, WA show I received word that an article in Hoodline Oakland was just published about me and Paisley's Puppets. You can read all about my obsession and passion with puppets here!
Stay tuned for announcements about upcoming workshops!
Once again, thanks to everyone who is supporting and encouraging me to follow my bliss with puppets. It means the world to me!