Things keep falling into place here at Paisley's Puppets. I cannot be more excited to share with you all what is happening in my puppet filled world. Get your eyeballs wet with another local publication about my work. Check out the progress on my ongoing Ween puppet project and meet Claude. Don't miss Paisley's Puppets in person appearance next month at the East Bay Mini Makers Fair. And finally, more workshops offered this fall!
A Passion for Puppets
Check out this great article in the East Bay Times about me and my puppet obsession. It was really fun to share again about my puppet craft and show off my studio where all the magic happens! Thanks to Jennifer at the East Bay Times for finding me!
Claude Meets Claude
My ongoing Ween puppet project has brought me endless joy and excitement. The latest puppet is Claude Coleman Jr., the drummer for the band Ween. I knew this one would be fun because Claude is so animated and, fancy that, my favorite drummer. Claude was in my hometown of Oakland last Friday night playing with Angelo Moore and the Brand New Step. I just had to see if I could meet him. The venue was small, so it was easy to meet and chat with Claude after the show. He was thrilled to see his puppet and willingly took several photos. A number of other Ween fans were there and thought the puppet was a perfect match. Next up, the bassist and keyboardist for Ween are slated to be finished before Ween's San Francisco show September 27th & 28th.
If anyone is looking for custom look-a-like puppets, send me a message and lets make some magic!
Puppets at Mini Maker Faire!
Last year when I was doing my puppet-a-day project, I went to the East Bay Mini Maker Faire and made a puppet at their craft-o-rama section and it was a blast! I made a puppet out of a sweater and the other supplies available.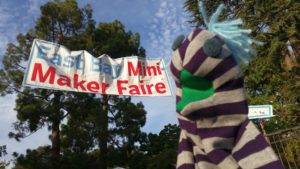 This year, I wanted to showcase my crazy puppets and offer a mini puppet making station. You can find me in their list of makers here. The East Bay Mini Maker Faire is October 22, 10am-5pm.
Want to Make a Puppet?!
I will be offering several classes this fall for all your puppet making needs!
Fabricate a Furry Friend Workshop – Oct 14 1-4pm
Come make a furry puppet! Supplies provided. Please choose a color option for the skin of your puppet.
$65 Contact me for limited sliding scale payment options.
Tickets and details here. Oakland, CA
East Bay Mini Maker Faire Puppet Making – Oct 22 10am-5pm
Come visit local puppet maker, Paisley's Puppets, and see their hand puppet pals looking for good homes. If you are so puppet inspired, spend a few minutes making a finger puppet with supplies provided.
Mini puppet making is offered free to attendees of the East Bay Mini Maker Faire, so check their site for tickets and further info. Oakland, CA
Made in SF: Lost Sock Puppets – November 14 3:30pm  
Make your own sock puppet with Paisley's Puppets! We'll have all the supplies needed including socks, but feel free to bring your own! Free! Eureka Valley Library Branch in San Francisco, CA
Stay tuned for upcoming workshops!